Treatment

Brain tumor treatment and survivability of brain cancer depends on the type, size and location of your tumor, as well as your age and overall health. At Lehigh Valley Health Network's neuroscience intensive care unit, you or your loved one is in the hands of highly qualified, experienced staff using the best technology and equipment available.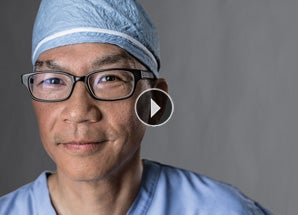 Mark Li, MD, PhD
, leads a multidisciplinary group of brain tumor specialists who work together to destroy certain tumors that were once considered inoperable, while doing everything they can to preserve healthy brain tissue and function.
Awake craniotomy
We offer awake craniotomy with speech mapping, a very advanced surgical technique used during brain surgery. During an awake craniotomy, you are awake and communicating with your neurosurgery team during brain surgery so the neurosurgeon can remove your brain tumor without removing brain tissue that would affect your speech after surgery.
Chemotherapy
Chemotherapy is the use of anti-cancer drugs to treat cancerous cells. Chemotherapy has been used for many years and is one of the most common treatments for cancer. In most cases, chemotherapy works by interfering with the cancer cells' ability to grow or reproduce. Different groups of drugs work in different ways to fight cancer cells. Chemotherapy may be used alone for some types of cancer or in combination with other treatments such as radiation or surgery. Often, a combination of chemotherapy drugs is used to fight a specific cancer. Certain chemotherapy drugs may be given in a specific order depending on the type of cancer they are being used to treat.
While chemotherapy can be quite effective in treating certain cancers, chemotherapy drugs reach all parts of the body, not just the cancer cells. Because of this, there can be many side effects during treatment. Being able to anticipate these side effects can help you and your caregivers prepare and in some cases prevent these symptoms from occurring.
Clinical trials
Clinical trials are medical research studies that enlist volunteers to learn whether new medications, practices or devices are safe and effective. They are designed to find better ways to prevent or treat illness or disease.
Embolization
Your neurosurgeon may opt to embolize your brain tumor prior to surgery. Embolization involves threading a thin tube (catheter) up your leg veins or arteries directly into the blood vessels that feed your tumor. Then a glue-like clotting substance is injected to choke off and shrink the tumor.
Fractionation
Fractionation of radiosurgery means you receive several smaller doses of radiation rather than one large dose. It is designed to kill the most brain tumor cells with the least possible amount of damage to the surrounding healthy brain tissue.
Have you been diagnosed with a brain tumor, brain cancer or other neurological condition?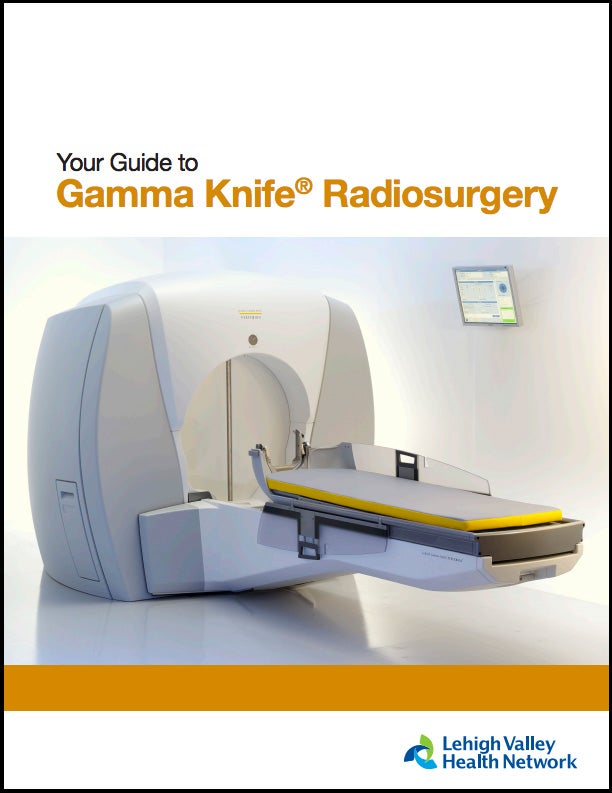 Arm yourself with knowledge.
Gamma Knife® Perfexion
For more than 30 years, Gamma Knife® has been the gold standard in radiosurgery, offering a safe, precise option for treating malignant and benign conditions of the brain. Gamma Knife® Perfexion™ can treat even more – and harder to reach – tumors, and Lehigh Valley Hospital--Cedar Crest is the first hospital in the area to offer this sophisticated technology. Radiosurgery with Gamma Knife Perfexion does not actually involve a knife. It's an exceptionally precise treatment method that delivers extremely focused radiation beams to selected targets. In addition to targeting brain tumors and lesions, Perfexion is capable of treating vascular malformations, as well as lesions in the sinuses, eye sockets, and upper spine and neck.
Intensity-modulated radiation therapy (IMRT)
External radiation comes from a machine. This is sometimes called EBRT, which stands for external beam radiation therapy. Tumors are thicker in some places than others. Traditional radiation therapy sends the same strength of radiation across the whole tumor. That means some parts may get too little or too much radiation. A new form of external beam radiation therapy called intensity-modulated radiation therapy (IMRT) helps make sure the whole tumor gets the same amount of radiation. IMRT uses small beams of different strengths to better fit the tumor's shape and size.
Linear accelerator-based stereotactic radiosurgery
This method applies radiation in a single, highly focused beam in multiple sweeps around a brain tumor. It also allows your physician to give multiple smaller-dose stereotactic radiotherapy to some patients. Physicians often use linear accelerator-based stereotactic radiosurgery for larger tumors.
Medications
Initial treatment of your brain tumor may include steroid medications to reduce swelling and inflammation of brain tissue. Dexamethasone (Decadron®, a steroid) is generally used to decrease swelling of the brain. Anti-convulsant medications also may be prescribed to help prevent or control seizures.
Neurochemotherapy
Intravenous chemotherapy – injected directly into your blood vessels – has difficulty crossing the blood-brain barrier. As an alternative to traditional chemotherapy, your neurosurgeon may use an implant to deliver chemotherapy directly to your tumor. These implants focus higher drug concentration on the tumor without the toxicity and side effects of traditional chemotherapy.
Neuroendoscopy
During this procedure a neurosurgeon performs surgery via a small incision through which an endoscope is inserted into the ventricles, which contain cerebrospinal fluid. It is within the ventricles that the intracranial neuroendoscopy is performed. All procedures are performed under general anesthesia. Your head will be shaved, usually only along the incision site, hidden behind your hairline. The standard incision is approximately 1-2 inches, accompanied by a small half-inch opening in the skull. The surgeon inserts the endoscope into the ventricles, where he can see the tumor or cyst, then uses a variety of very small instruments to perform the procedure. Most patients are discharged from the hospital the day after surgery.
Radiation therapy
Radiation therapy uses X-rays, electrons and other types of radiation to treat cancerous and some noncancerous areas of the body in a variety of ways. It usually involves focusing beams of radiation on cancerous cells. Radiation, by itself or in conjunction with other kinds of treatment, often can cure cancer. If a cure is not possible, palliative care may help relieve the symptoms of cancer, such as pain.
Radiation therapy may be the only treatment necessary, or it may be used in combination with surgery or chemotherapy (drugs). For example, radiation therapy may help shrink a cancerous tumor before surgery or stop the growth of remaining cancer cells after surgery. When used with chemotherapy, it may help destroy cancer or prevent its reappearance. If you are receiving radiation therapy and chemotherapy at Lehigh Valley Health Network, your doctors will work as a team to ensure that you receive the most appropriate care.
At Lehigh Valley Health Network, we use advanced linear accelerators such as Varian Trilogy to provide radiation therapy. Our linear accelerators target radiation in a highly focused beam, destroying cancer cells while sparing the surrounding normal tissue.
Before your radiation therapy begins, we must plan a program to deal specifically with your type of cancer. We do this with the help of a CT simulator.
At the time of simulation, we will take your photograph for identification purposes. During simulation, special devices are made to help you hold still during treatment. Scans are taken to determine the precise location of the cancer area. Since radiation affects all cells, both normal and abnormal, it is important to ensure as little as possible of the normal tissue is treated. The skin over that area will be outlined with a special marking pen to identify exactly where the radiation will be directed. These marks will wash off easily, but since they may rub off, you might want to wear older undergarments and clothing for this visit. You will not need to keep these marks on for the treatment.
We also place tiny tattoos on your body to mark the area to be treated. This helps us reproduce precisely the treatment we have designed for you each time you receive your therapy. Once these marks are placed, pictures are taken of the area that will receive treatment to further ensure accuracy and safety.
An appointment will be made for your next visit, usually within one week after this simulation. IMRT techniques may take slightly longer to plan. This time allows our staff and your doctor to make accurate computer calculations for the radiation treatment. It also gives us time to design shields to protect other areas of your body from receiving unnecessary radiation.
Because each patient is different, treatment plans will vary. The number or frequency of your appointments does not imply anything about the expected results of your care. Your schedule is planned specifically for you, to help you achieve the best results, so we ask for your help by maintaining that schedule.
During the progress of your therapy, we may find it appropriate to use more than one type of radiation treatment machine because each one performs different functions in the course of therapy. Also, you may have a simulation more than once to make adjustments in your treatment plan as your cancer shrinks.
Surgery
Surgery is the mainstay of brain tumor treatment and involves removing as much of your tumor as possible while trying to minimize damage to healthy tissue. Some tumors can be removed completely, while others can be removed only partially or not at all. If a tumor is slow growing, neurosurgeons may not operate immediately. If your tumor has resulted in a buildup of fluid in the brain (hydrocephalus), a shunt may be inserted surgically. A shunt is a long, thin tube that's placed in the brain and then threaded under the skin to another part of the body, usually the abdomen. The tube allows excess fluid to be removed from the brain.
Stereotactic localization
This technique utilizes a MRI scan to map a tumor's exact location within the brain. Techniques using lasers and ultrasound also make removal of the tumor more precise, reducing the risk that cancer cells will be left behind or that healthy tissue will be harmed.