Radiation Therapy
When you receive radiation therapy at Lehigh Valley Cancer Institute, you have the security of knowing you are cared for by experienced physicians, nurses, therapists and other professionals who are specialists in their fields and who have helped thousands of patients confront cancer.
As your care progresses, you will learn more about the resources of our department and our Cancer Center, including our specialists and the availability of the finest state-of-the-art technology.
This guide is designed to help you understand radiation therapy and explain what you can expect during and after your treatment. We will do all we can to treat your cancer and help you and your family achieve the best results possible.
To contact Allentown Radiation Oncology Associates at the Allentown location, please call 610-402-0700.
To contact Allentown Radiation Oncology Associates at the Bethlehem location, please call 484-884-5818.
Lehigh Valley Hospital-Cedar Crest and Lehigh Valley Hospital-Muhlenberg have been awarded a three-year accreditation in radiation oncology by the American College of Radiology (ACR). The ACR seal of accreditation represents the highest level of quality and patient safety in radiation oncology. It is awarded only to facilities meeting specific practice guidelines and technical standards developed by ACR after a peer-review evaluation by board-certified radiation oncologists and medical physicists who are experts in the field. Patient care and treatment, patient safety, personnel qualifications, adequacy of facility equipment, quality control procedures and quality assurance programs all are assessed.
About radiation therapy
Radiation therapy uses X-rays, electrons and other types of radiation to treat cancerous and some noncancerous areas of the body in a variety of ways. Treatment usually involves focusing beams of radiation on cancerous cells. Radiation, by itself or in conjunction with other kinds of treatment, often can cure cancer. If a cure is not possible, palliative care may help relieve the symptoms of cancer, such as pain.
Radiation therapy may be the only treatment necessary, or it may be used in combination with surgery or chemotherapy (drugs). For example, radiation therapy may help shrink a cancerous tumor before surgery or stop the growth of remaining cancer cells after surgery. When used with chemotherapy, it may help destroy cancer or prevent its reappearance. If you are receiving radiation therapy and chemotherapy, your doctors will work as a team to ensure you receive the most appropriate care. Read how radiation therapy has advanced over the past few decades.
Your radiation therapy team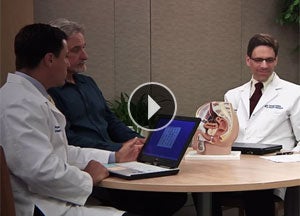 The urologic surgeon, radiation oncologist and nurse navigator who work together on a multidisciplinary consultation team explain what to expect when you receive care for prostate cancer at Lehigh Valley Health Network.
Radiation therapy involves many specialists from the Department of Radiation Oncology at Lehigh Valley Health Network, all of whom are certified by their respective boards.

Radiation oncologists are board-certified doctors with specialized education in the use of radiation for the treatment of cancer and other diseases. You will see the same radiation oncologist (referred to as "your doctor" throughout the rest of this guide) as your treatment progresses. Radiation oncologists are skilled in assessing the long-term effects of the therapy and monitoring the cancer. Meet the radiation oncologists in Allentown and Bethlehem.
Radiation therapists are certified professionals experienced in the delivery of treatment and use of our treatment machines. The therapists assist your radiation oncologist with treatment planning and in the delivery and scheduling of your daily treatment.
Radiation oncology nurses are registered nurses with advanced certification in the care of oncology patients. Educated in radiation therapy, they assist you in preparing for treatments and help you with any problems you may have during your care.
Medical physicists are individuals certified and experienced in radiation physics at the MS or PhD level. They make sure your radiation treatment is planned, calculated and delivered accurately. This includes making sure the treatment machines are performing properly. The physicists work closely with your doctor to help plan your treatments.
Medical dosimetrists are certified members of the radiation oncology team. Dosimetrists have knowledge of the radiation beams produced by the treatment machines and specialize in planning your treatment. The medical dosimetrist works closely with the medical physicist and radiation oncologist to design and optimize your treatment plan.
Clerical staff members work closely with your radiation oncologist to prepare your medical record, arrange your first appointment, obtain insurance authorizations and assist you with your daily arrivals.
Cancer support team members are available for you and your family members. Social workers, a psychologist, a dietitian, a financial coordinator, a chaplain and others are here for you and ready to help.
Our services
The Radiation Oncology team consists of highly skilled staff performing consultation, CT simulation and treatment planning, external beam radiation treatment including 3D conformal and IMRT (intensity-modulated radiation therapy), enhanced treatment planning (field-in-field and enhanced dynamic wedge), IGRT (image-guided radiation therapy), CBCT (cone-beam CT), RapidArc, respiratory gating, stereotactic radiosurgery, brachytherapy (low-dose, high-dose rate, removable as well as permanent implants including prostate seed implants), Gamma Knife® Icon, Sir Sphere, SpaceOAR, Varian Edge and Calypso, SBRT (stereotactic body radiotherapy), pediatrics, on-treatment evaluation, and follow-up visits.
Our equipment and resources
Numerous methods are used to treat the many types of cancer. We have the following equipment and resources available to help with your care.
Our external beam treatment machines, called high-energy linear accelerators, offer the most powerful beams of radiation available and make an enormous difference in how well we can treat deep-seated tumors.
Our Varian Trilogy and Varian TrueBeam units have stereotactic radiosurgery capabilities to deliver ultra-precise image-guided radiation therapy, using real-time X-ray imaging to more precisely target cancer lesions. We are able to target the treatment precisely with only minimal effect on adjacent healthy tissue. Our equipment is capable of delivering intensity-modulated radiation therapy (IMRT), an advanced technique in radiation treatment delivery. IMRT uses high-energy linear accelerators, equipped with multileaf collimators, to deliver tiny beamlets of radiation to the tumor site with a high degree of precision. Also, our RapidArc treatment technique brings a significant advance in the way our patients receive daily radiation treatment. This technology allows clinicians to program a linear accelerator to deliver precise forms of IMRT up to eight times faster than other IMRT systems. As a result, your tumor will receive the full radiation dose within less than two minutes compared with 10 minutes or longer for conventional IMRT.
Treatment speed is important because it reduces the time you must lie still. As treatment time is reduced, RapidArc has the potential to improve both your quality of care and comfort. We also offer respiratory gating techniques during treatment. Respiratory gating is the process of turning the radiation beam on and off based on your breathing cycle. It can be used to treat lung, liver, stomach and pancreatic cancers. Using respiratory gating, your radiation treatment is synchronized to your individual breathing pattern, targeting the tumor only when it is in the optimum range.
Our patients also benefit from image-guided radiation therapy (IGRT) and cone-beam CT (CBCT). These technologies allow for soft tissue/bony anatomy matching that verifies the location of the cancer at each treatment and allows for more precise treatment of tumors – for example, lung cancers that change position with normal actions like breathing and digestion. Since our goal is to achieve the best possible results for you, we take a number of safety precautions to ensure your well-being. We use custom-made lead alloy shields and multileaf collimators to protect other parts of your body from exposure to radiation.
Radiation oncologists use image guided radiation therapy, or IGRT, to help deliver radiation therapy to the cancer more accurately each day since tumors can move between treatments due to differences in organ filling or movements while breathing. IGRT involves conformal radiation treatment guided by imaging, such as CT, ultrasound or X-rays, taken on the treatment table just before the patient is given the radiation treatment. All patients first undergo a CT Simulation as part of the planning process. The imaging information from the CT Simulation is then transmitted to a computer on the treatment machine to allow doctors to compare the earlier image with the images taken just before treatment. During IGRT, doctors compare these images to see if the treatment needs to be adjusted. This allows doctors to better target the cancer while avoiding nearby healthy tissue.
IGRT has an important role in the treatment of prostate cancer since the prostate can move on a daily basis depending on the shape of the bladder and rectum at the time of treatment. Three tiny metallic fiducial markers can be implanted into the prostate prior to radiation planning and treatment. These markers can then be imaged on a daily basis prior to treatment, and the patient's body position can be modified as needed. Alternatively, our linear accelerators are equipped with cone-beam CT technology that enables a CT scan to be taken to verify prostate positioning prior to radiation delivery.
Cone beam computed tomography (or CBCT) is a medical imaging technique consisting of X-ray computed tomography where the X-rays are divergent, forming a cone.
During a CBCT scan, the scanner rotates around the patient, obtaining up to nearly 600 distinct images. The scanning software collects the data and reconstructs it, producing what is termed a digital volume composed of three-dimensional voxels of anatomical data that can then be manipulated and visualized with specialized software
Radiation therapy is planned on CT simulators. This machine allows precise mapping of the tumor for radiation delivery. In conjunction with the CT simulator, we have sophisticated three-dimensional computer treatment planning systems that allow us to plan concentrated doses of radiation to cancerous tissue with minimal effect to surrounding healthy tissue.
Stereotactic radiosurgery is a major advance in the treatment of brain tumors and certain noncancerous conditions of the brain. The Gamma Knife® Icon and the Varian Trilogy at Lehigh Valley Hospital–Cedar Crest can deliver this advanced form of radiation therapy. Our stereotactic body frame similarly offers a high degree of precision in the treatment of other areas of the body outside the brain.
Varian Edge® with Calypso® tracking system is a technology-leading, minimally invasive stereotactic radiosurgery used to treat a wide range of cancers with incredible precision and accuracy. Lehigh Valley Hospital (LVH)–Pocono was the first hospital in Monroe County to offer Edge, capable of delivering higher doses of radiation to destroy cancer cells with no cutting, no anesthesia, fewer treatments and no in-hospital stay. Edge allows radiation oncologists to treat more than one tumor in the body at a time, which isn't the case with some other radiosurgery systems when you have to treat each individual tumor in a separate session. This system is also available at LVH–Cedar Crest.
Edge treats a wide range of cancerous and noncancerous tumors throughout the body, including those of the prostate, pancreas and liver. It delivers treatments quickly, all while keeping track of tumor motion using advanced tracking technologies. Here's how it can help:
Prostate cancer – Greater accuracy means greater results and better quality of life. Published data suggests that Calypso and Edge can result in lower rates of bowel and sexual dysfunction side effects.
Lung cancer – Varian Medical Systems' Calypso tracking system works hand-in-hand with Edge to track tumors in real time, so that even tumors that readily move – such as those of the lung – can be precisely targeted with radiation. Watch a short video to see how Varian Edge delivers targeted radiation.
The system also alerts the radiation oncologist if the patient undergoing treatment has moved in a way that could compromise accuracy. Watch a short video to see how Varian Edge manages motion during treatment.
Gamma Knife® Icon™ radiosurgery involves no cutting and is so precise, it tracks your movements, making adjustments so only diseased tissue is targeted. Gamma Knife Icon has been termed the "gold standard" among stereotactic radiosurgery devices. Worldwide, more than 400,000 patients have been treated using the technology. Here at LVHN, we use Gamma Knife Icon to treat a broad range of tumors, including:
Primary and metastatic brain tumors (including paraspinal)
Glial tumors
Acoustic neuroma
Pituitary adenomas
Pinealomas
Craniopharyngiomas
Meningiomas
Chordomas
Arteriovenous malformations
Trigeminal neuralgia (tic douloureux)
The Gamma Knife Icon device provides ultra-precise microradiosurgery capabilities that limit radiation dosage to healthy tissue. It is a noninvasive alternative to conventional neurosurgery, whole-brain radiation therapy (WBRT) or intensity-modulated radiation therapy (IMRT). Patients treated with Gamma Knife Icon stereotactic radiotherapy can remain awake during treatment and go home the same day as treatment.
Brachytherapy services enable us to place radioactive material in the body.
High Dose Rate (HDR) brachytherapy is an outpatient procedure used to treat breast, uterine, lung, esophageal, cervical and other cancers. HDR brachytherapy is a form of "internal" radiation therapy. It is not surgery. This treatment allows your doctor to give you a high dose of radiation over a short period of time. HDR brachytherapy may be used alone or as a boost to external beam radiation therapy.
Prostate seed implantation is a minimally invasive procedure for treating prostate cancer in which radioactive seeds are placed in the prostate gland to target cancer cells while maximizing the preservation of healthy tissue. This outpatient procedure requires general anesthesia and takes only a few hours. Most patients return to normal activities within two to three days. Our doctors are experts in treating prostate cancer patients using prostate seed implantation, having pioneered its use decades ago.
SpaceOAR – the Spacing Organs at Risk system – is a recent advance in the treatment of prostate cancer that involves shorter courses of treatment using higher daily doses of radiation while minimizing the risk of rectal injury. The system allows LVHN radiation oncologists to inject a material to push the rectum away from the prostate, providing more margin (space) between the prostate gland and rectum so radiation dosage to the rectum is markedly less. The system permits a very high radiation dose, which gets better control of the cancer while reducing the risk of long-term side effects.
The SpaceOAR procedure is similar to a standard prostate biopsy. Oncologists use an ultrasound probe in the rectum, introduce a needle into the perineum under image guidance to find the space between the rectum and prostate, and inject saline to open up the space. The oncologist then injects SpaceOAR hydrogel, which solidifies on contact and forms a barrier between prostate and rectum. The material dissolves over time. The outpatient procedure is typically conducted in 30 to 40 minutes.
Prone breast irradiation allows some women, especially those with larger breasts, to lie in a prone, chest-down position for radiation therapy, which may reduce the risk for certain side effects from the treatment. Radiation therapy is a common treatment course for breast cancer, and often is used for women with early-stage cancer who opt for breast-conserving therapy.
With prone breast irradiation therapy a patient lays chest-down on a special table that allows one breast to fall downward for treatment. This is an alternative position to the more traditional supine position, where a patient lies on her back for treatment.
By allowing the treated breast to fall away from the body, a skinfold between the breast and the torso is eliminated, helping reduce the risk of radiation dermatitis. This is a temporary irritation of the skin from radiation, but it can be more severe in women with larger more pendulous breasts who are treated in the traditional supine position.
In addition, prone positioning also improves the angle for radiation targeting. Recent studies find prone breast irradiation reduces incidental radiation exposure to the lungs, as well as limits the small risk or radiation exposure to the heart when treatment is focused on the left side of the torso.
Your radiation oncologist will discuss prone breast irradiation if you are a candidate for its use.
Your treatment, step by step
Radiation therapy treatments usually extend over several weeks, requiring daily visits Monday through Friday. The weekend time away from therapy gives you and your body a chance to rest. Because you will receive individual medical evaluation and treatment planning, your specific experience might differ slightly from the general process explained here.
Scheduling your first appointment
You or your referring doctor may schedule your first appointment. Many people find it helpful to have a relative or friend accompany them for their first visit, and we invite you to ask anyone you wish to join you for your initial consultation.
Your first appointment: a consultation
Your first appointment will be a consultation with one of our radiation oncologists. During this visit, the doctor will discuss your medical history and talk with you about your condition. You will have a physical examination, and your medical records and X-rays will be reviewed. You also may meet with a radiation oncology nurse. This visit may last one to two hours.
The radiation oncologist will discuss your treatment options with you and explain the possible side effects and the anticipated benefits of your therapy. If you decide to proceed with treatment, you will be asked to sign an informed consent form prior to treatment, and an appointment will be made to begin treatment planning.
Treatment planning and simulation
Before your radiation therapy begins, we plan a radiation treatment that deals specifically with your type of cancer. The first step in this process is a CT scan as part of an initial "simulation" appointment. We use the CT (computed tomography) scan to help us determine the location, size and depth of your cancer while also identifying the healthy tissues we want to avoid when you have radiation treatment.
LVHN is among a few select cancer centers in the United States, and the only hospital in northeastern Pennsylvania, offering a special type of CT scan that reduces the undesirable display of artifacts in the CT images produced by metal in the body. Metal artifacts are caused by objects like dental fillings, joint-replacement implants, screws, metal plates or pins that are commonly used for back, spinal or bone procedures.
When you have a traditional CT scan, which is a type of X-ray, metal artifacts can appear as white and black streaks on the image. These streaks may obscure part of your internal anatomy, making it more challenging to develop the radiation treatment plan. However, at LVHN, if you have metal objects in the area to be treated, you can have your simulation CT scans performed with the GE Optima580RT CT scanner. This device features revolutionary software that reduces the streaks created by metal objects and helps ensure treatment plans are made with the best visualization possible. (See comparison images and information from metal artifact reduction study conducted by LVHN physicists.)
Day of simulation
Tip – On the day of the simulation, you may want to wear older undergarments and clothing, because a special marking pen we use to outline the skin over the treatment area may rub off on your clothing.
At the time of simulation, we will take your photograph for identification purposes.
We will craft special devices to help hold you in place during treatment to ensure you are still and that the same site is targeted at each treatment
Tiny tattoos will mark the area to be treated. This helps us precisely reproduce the treatment we have designed each time you receive your therapy.
Once the tattoos are completed, pictures are taken of the treatment area to further ensure accuracy and safety.
An appointment will be made for your next visit, usually within one week after this simulation. Intensity-modulated radiation therapy (IMRT) techniques may take slightly longer to plan, though no further CT scans are needed. This extra time allows our staff and your doctor to make accurate computer calculations for the radiation treatment.
Because each patient is different, radiation treatment plans will vary. The number or frequency of your appointments does not imply anything about the expected results of your care. Your schedule is planned specifically for you, to help you achieve the best results, so we ask for your help by maintaining that schedule.
During the progress of your therapy, we may find it appropriate to use more than one type of radiation treatment machine, because each one performs different functions in the course of therapy. Also, you may have a simulation more than once to make adjustments in your treatment plan as your cancer shrinks.
Beginning treatment
This visit will take longer than later ones because your radiation therapist and doctor must verify your treatment setup. When you arrive in the reception area, please check in at the reception desk. Your radiation therapist will call you to the treatment room, and your family will be instructed to wait in our main reception area. To verify accuracy of the planned treatment, the therapist will take X-rays. These are taken to ensure your treatment matches what was designed during simulation. This visit may take 30–45 minutes. You may or may not receive a treatment on this day. Special devices may be used to help you stay in position. It is important for you to remain still so the radiation reaches only the area where it is needed and so the same area is treated each time. You may breathe normally during the treatment. The therapist will then control the treatment unit from outside the room and observe you on closed-circuit television. You can talk to each other via an intercom. You may feel alone for the next few minutes, but remember you are constantly monitored and you can talk with your therapist at any time. A radiation therapy machine looks like other X-ray equipment. You will not see or hear the radiation, and you probably won't feel anything. Some patients say they notice warmth or tingling in the area being treated, but you should not experience any discomfort. You will not become radioactive from your therapy. If for any reason you feel ill or very uncomfortable during your treatment, please tell your therapist. Please do not hesitate to ask any questions you may have during your visit.
Your daily treatments
Within a short time you will become familiar with your treatment routine and the medical team that is helping you fight your disease. You will find your treatments will become routine quickly after the first one.
For all regular visits, please sign in at the reception desk using your personal ID. Your radiation therapist will call you to the treatment room. For each radiation therapy visit you will be in the treatment room, under supervision by the therapist, about 15 minutes. You may need to change into a gown. Administering the radiation takes only a few minutes, during which time you will be alone in the room. Once a week you may have a blood test to check your red and white blood cell counts and platelets, and additional X-rays to assure the accuracy of the treatment. These X-rays do not usually show response to treatment; they are used to ensure that the treatment is being given as designed. You also will be examined regularly by your doctor and nurse to monitor your progress and to answer your questions. We care about your general health and well-being, so please let us know how you are feeling.
Care following radiation therapy
Professional health care related to your cancer does not end when your radiation treatment is completed. You will need regular follow-up exams, laboratory tests and perhaps X-rays. Also, you may be seeing other cancer care specialists after your radiation therapy. We will send reports about your care to your referring doctor. We may schedule a follow-up appointment for you after your final treatment session.
Managing side effects
We will tell you about possible side effects and recommend how to deal with them. Most are not serious, and they usually disappear a few weeks after your treatment ends. We will suggest ways you can reduce the discomfort of any side effects and possibly prevent their recurrence. Many patients are able to work and enjoy normal activities during their radiation therapy. Your radiation team works together to ensure you have the best possible chance for recovery.
Some patients find they need more rest than usual and cannot do as much during treatment. You will be the best judge of how much activity you are able to handle. There is no need to avoid being with other people during your radiation therapy. Your body will not contain any radioactive substance, so you are not a hazard to others, even in intimate contact. The only exception to this is for some patients receiving internal radiation therapy, or brachytherapy. If you are receiving this therapy, you may need to be isolated while the radioactive material is within your body. As soon as this material is removed, however, there is no radiation hazard to anybody around you. Patients receiving prostate seed brachytherapy are discharged with permanent seeds in place and are given specific care instructions.
Each patient responds to radiation therapy differently. We will give you specific instructions for at-home care to fit your needs. It is important that you take good care of yourself during the course of your treatment to protect your overall health and ensure you receive the greatest benefit from your radiation therapy.
Overall health guidelines
Get plenty of rest. Your body will use extra energy during the course of your treatment. Sleep as much as you need. If you have extreme fatigue, please discuss the problem with your doctor.
Eat wisely. Good nutrition is essential, and we will discuss your special dietary needs. For patients receiving radiation therapy to certain parts of the body, dietary restrictions may be given. Your doctor or nurse will discuss these restrictions with you when the therapy starts. You should maintain a balanced diet and try to maintain your weight. If you have problems eating or need extra help with nutrition planning, please let us know.
Be kind to your skin. You need to treat the skin in your treatment area with extra care since in some cases it can become "sunburned" from your treatment. Since we do not use marks during the treatment but rather rely on the tattoos, you are allowed to gently wash the area being treated. This is somewhat different than what you may read in some of the other booklets you will be receiving. We will give you specific instructions about proper skin care. Do not apply creams or lotions to the treatment area unless approved by your doctor.
Tell us about any medication you are taking before treatment begins. In addition, do not take any medication during treatment, even aspirin, without first discussing it with your doctor or nurse.
Ask questions. Please do not hesitate to ask questions at any time. We are here to help you and want to hear your concerns and answer your questions. Taking good care of yourself and learning all you can about your body and its response to your disease and treatment can be helpful during radiation therapy. Maintaining good health care routines after your treatment program is essential.
General information
The department is open Monday through Friday, except holidays, 7:45 a.m. to 5 p.m. At times, hours may change to allow our equipment to be maintained. You will be informed in advance if your appointment time will need to change on those occasions.
Appointments
We try to schedule convenient appointments for you so you can work, go to school, take care of your family and go about your usual activities. Please check with your therapist if you find it necessary to change your schedule. On most occasions, your daily treatment time will remain the same each day. Occasionally, your treatment time may change as your doctor designs routine changes to your treatment.
Please be prompt for your appointments so we can give all patients the best care and minimize inconvenience for everyone. If you will be late, please call us at 610-402-0700 at Lehigh Valley Hospital–Cedar Crest or 484-884-5818 at Lehigh Valley Hospital–Muhlenberg.
We try our best not to keep patients waiting, but occasionally delays are unavoidable due to the complexity of the equipment we use.
Family and friends
We encourage you to bring loved ones and we welcome them, especially during your first appointment. If you wish, family members or friends may accompany you during your daily visits.
To protect the privacy of all patients, we ask family and friends to remain in the reception area. If you want other visits between your family and doctor, please ask, and they will be arranged promptly.
Time expectations
It takes time for us to carefully analyze your particular treatment needs, design your individualized radiation therapy program, and provide accurate and effective treatments each time you come for care. This table lists the average time required for each of your visits. Your individualized care may require additional time.
| | |
| --- | --- |
| Visit | Average time |
| Initial consultation | 1-2 hours |
| Treatment planning/simulation | 30-45 minutes |
| Verification/first visit | 45 minutes |
| Regular treatments | 30 minutes |
| Follow-up visits | 30-45 minutes |
Smoking
Smoking is not permitted.
Overnight accommodations
Affordable and convenient overnight family lodging for patients and guests is available at the Hackerman- Patz House on the campus of Lehigh Valley Hospital–Cedar Crest. Discounted rates are available with local hotel partners at the other network sites.
Parking
See our campus maps to locate free parking. At LVH-Cedar Crest, park in front of the cancer center entrance. At LVH-Muhlenberg, use the main hospital entrance.
Support programs
We are dedicated to helping you maintain the best possible quality of life during and after your radiation therapy treatment. We understand the personal challenges you and your family face and offer special support services to help you deal with them. Please consult a nurse for more information about our programs.
Transportation
If you need help with transportation during the course of your treatment, please let us know, and we will have one of our nurses assist you with transportation resources.
Billing
You will receive two separate bills for your care. One will cover your doctor's services, and the other, from Lehigh Valley Health Network, will cover the technical component of your care. Although we do not generate the bills in our office, we can provide you with the information and phone numbers you may need to make inquiries about your bill. We will make every effort to minimize the concern associated with this aspect of your care.
About cancer services
Patients who come to Lehigh Valley Health Network soon discover they are not alone when facing a diagnosis of cancer. We rely heavily on technology and professional skill, while recognizing personal support is a key component in cancer care. We will do all we can not only to treat the cancer, but also to care for and heal the whole person.
Lehigh Valley Health Network's Cancer Center makes high-quality cancer care as comfortable and convenient as possible for our patients and their families. We offer a full range of outpatient diagnostic and treatment services, multidisciplinary clinics, education, rehabilitation and support services.
Lehigh Valley Health Network offers hundreds of clinical trials to our cancer patients, and we have access to additional studies through our relationships with research institutions.
A central part of the care available at the Cancer Center is providing support for cancer patients and their families.
Our Cancer Support Team offers help to our patients and their entire family. A variety of support groups and special programs help patients and their families relate to others who have "been there." The Cancer Center also offers education and prevention programs, second opinion service, educational resources, and outreach and screening programs for the community.