Multidisciplinary Consultation
You are not a number to us. You are our patient and we are advocates for your best care. One way to achieve optimal care is through an appointment at one of our Multidisciplinary Clinics. These clinics are available for patients with the following cancers, as well as other chest cancers: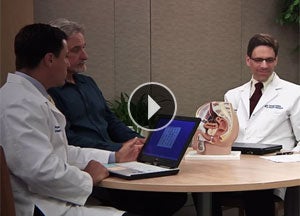 The urologic surgeon, radiation oncologist and nurse navigator who work together on a multidisciplinary consultation team explain what to expect when you receive care for prostate cancer at Lehigh Valley Health Network.
At your appointment, you will meet with a team of physicians who have primary knowledge of your particular condition, as well as a patient navigator who will provide additional guidance and support. In advance of your appointment, the team will review your case including medical history, pathology reports and imaging studies, such as X-ray, CT, MRI or PET scans. During your conference, the team will provide you with a combined written opinion reflecting the scope of your condition and their recommendations for your best course of care.
This appointment is also a communication forum, so you will have time to discuss your concerns and ask questions of the group. This dialogue will build your understanding of your condition and your treatment options, as well as develop relationships with your care team.
Fighting cancer requires knowledge, perseverance and creativity. Our physicians are prepared to find the treatment or suite of treatments that will attack the cancer directly or indirectly – strategies that can improve your odds of winning the battle. We also are active participants in clinical studies which provide our patients even greater access to cancer-fighting technologies and therapies.
Lehigh Valley Health Network offers access to physicians who excel in their skill, as well as their passion, for medicine and patient care. Depending on your condition and treatment plan, your care team may include the providers below.
If a physician on your care team is board-certified, he or she chose to obtain an additional credential after medical school and residency training. Board-certified physicians have completed additional education and passed an examination to earn this credential. If one of your caregivers is fellowship-trained, the physician has had additional training in a particular area of interest.
Medical oncologist: A medical oncologist is a doctor who specializes in treating cancer using chemotherapy, hormonal therapy, biological therapy and targeted therapy. A medical oncologist often is the main health care provider for someone who has cancer. A medical oncologist also gives supportive care and may coordinate treatment given by other specialists.
Radiation oncologist: A radiation oncologist is a doctor who specializes in using radiation to treat cancer. At Lehigh Valley Health Network, our surgical oncologists, medical oncologists and radiation oncologists work together to develop a treatment plan that's personalized just for you.
Surgical oncologist: A surgical oncologist is a doctor who performs biopsies and other surgical procedures when you have cancer. Some surgical oncologists specialize in certain areas of the body.
Hematologist-oncologist: If you have leukemia or another blood cancer, you will be treated by a physician team that consists of an oncologist, or cancer doctor, and a hematologist, who specializes in treating blood disorders.
Gynecologic oncologist: These doctors are experts at treating cancers of the female reproductive organs. There are only about 600 of these specialists nationwide, and we have three of them at Lehigh Valley Health Network. As specialists, they have more experience with the surgical and chemotherapeutic management of gynecologic cancers.
Urologic oncologist: These doctors are experts at treating cancers of the male reproductive organs as well as cancers of the male and female urinary tract. As specialists, they have more experience with the surgical and chemotherapeutic management of urologic cancers.
Neurosurgeon: A neurosurgeon is part of the team that cares for brain cancer. Our neurosurgeons offer the most advanced surgical and non-surgical techniques.
Thoracic surgeon: This specialist operates on organs inside the chest, including lungs and esophagus.
Dermatologist: This doctor has special training to diagnose and treat skin problems, including skin cancer.
Primary care doctor: Your primary care doctor is your family doctor. While your cancer care will be managed by oncologists, you will still see your primary care doctor for other medical concerns, so it is important for him or her to understand where you are in your cancer journey.
Plastic surgeon: Reconstructive or plastic surgeons correct facial and body abnormalities caused by birth defects, aging, trauma and disease such as cancer. Usually, the goal of reconstructive plastic surgery is to improve body function. However, reconstructive plastic surgery may also be performed to create a more normal appearance and improve self-esteem.
Palliative care physician: When people hear the term palliative care, many assume that it's a treatment only for someone who is dying. But palliative care also can be used to bring physical and emotional comfort to anyone with a serious illness, such as cancer.
Interventional pulmonologist: Lehigh Valley Health Network has one of the nation's few doctors specially educated in interventional pulmonology to perform flexible bronchoscopy. This procedure was traditionally used to evaluate your airways after chest X-rays and CT scans find an abnormality in your lungs. Now we use bronchoscopy to treat air passage tumors, helping lung cancer patients breathe more easily and handle treatments better.
Psychiatrist: We have psychiatrists who can help you manage your psychiatric medications while you are receiving cancer treatment.
Physician assistant: Physician assistants (PAs) are health professionals who practice medicine under a doctor's supervision in medical and surgical settings. They can perform routine exams, order lab work and X-rays, prescribe medicines and counsel people about their health.
Nurse practitioner: Nurse practitioners (NPs) are registered nurses (RNs) who have advanced education and clinical training. They can perform physical examinations, diagnose and treat health problems, order lab work and X-rays, prescribe medicines and provide health information.
Oncology clinical nurse specialist: These specialists are registered nurses who have master's level education and are certified in advanced oncology. They are clinical experts who are available to assist the nursing staff.
Radiation oncology nurse: Radiation oncology nurses are registered nurses with advanced certification in the care of oncology patients. Educated in radiation therapy, they assist you in preparing for treatments and help you with any problems you may have during your care.
Clinical trials nurse: Lehigh Valley Health Network is actively involved in clinical research. Clinical trials are medical research studies that enlist volunteers to learn whether new medications, practices or devices are safe and effective. They are designed to find better ways to prevent or treat illness or disease. Participating in a research study is completely voluntary. If you choose to participate, you will be assigned a nurse who can help guide you and answer questions you may have.
Patient navigator: This special nurse is here to help you through your cancer journey. She or he is just a phone call away for your questions and concerns, from diagnosis through treatment. Your patient navigator will guide you to services in the hospital and in the community, teach you about your diagnosis and treatment, help you communicate with your physicians, provide guidance for decision-making regarding choices in your care and offer emotional support.
Radiation therapist: Radiation therapists are certified professionals experienced in the delivery of treatment and use of our treatment machines. The therapists assist your radiation oncologist with treatment planning and in the delivery and scheduling of your daily treatment.
Radiation physicist: Radiation physicists are individuals certified and experienced in radiation physics at the MS or PhD level. They make sure your radiation treatment is planned, calculated and delivered accurately. This includes making sure the treatment machines are performing properly. The physicists work closely with your doctor to help plan your treatments.
Medical dosimetrist: Medical dosimetrists are certified members of the radiation oncology team. Dosimetrists have knowledge of the radiation beams produced by the treatment machines and specialize in planning your treatment. The medical dosimetrist works closely with the medical physicist and radiation oncologist to design and optimize your treatment plan.
Genetic counselor: Genetic counselors specialize in assessing your personal and/or family history of cancer, review the benefits and limitations of genetic testing, and discuss whether a patient is a candidate for testing. He or she will make recommendations for cancer screening and a risk-reduction plan tailored to the patient's level of risk. There will be ongoing follow-up visits for patients who have an identified inherited cancer syndrome.
Social worker: A social worker can help you with finances, insurance, discharge plans, housing and other social and family problems arising out of illness or disability. At Lehigh Valley Health Network, we have a social worker specifically for people with cancer.
Lymphedema specialist: We have specialized physical therapists who can help you with lymphedema, a type of swelling that can occur when you have cancer or after some cancer treatments.
Respiratory therapist: It's possible you might see a respiratory therapist during your hospital stay. These health care professionals direct and manage your breathing (respiratory) and lung (pulmonary) care. A big part of their job is educating you. They might give you information and tools to manage your asthma or suggest ways to stop smoking.
Dietitian: The meals you receive while a patient at Lehigh Valley Health Network are determined by a dietitian based on your nutritional needs. Dietitians also work with doctors to provide a treatment plan that may include special diets for patients with cancer.
Physical therapist: Physical therapists determine if you need therapy while in the hospital , and if so, will start you on a program. They also recommend whether or not you need additional therapy at a rehabilitation center or skilled nursing facility before going home. Physical therapy is common after certain types of cancer surgery.
Medical assistant: Medical assistants do scheduling, prepare patients for exams, perform some office procedures or tests, handle phone calls and serve as a liaison between the health care provider and others.
You will see several other caregivers and support staff if you stay in one of our hospitals. Meet the members of our inpatient team and learn how they will help you.