Men's Health
Men face the possibility of many health conditions that are unique to them, including enlarged prostate, erectile dysfunction and male infertility. The good news is these and other conditions men face – such as colon cancer, heart disease, prostate cancer, sexually transmitted diseases, diabetes and lung cancer – are preventable or treatable with early diagnosis. That's why it's important to have regular checkups and screenings. You also should talk to your doctor about symptoms you may be experiencing and potential risk factors you may have. Whether your needs are routine or complex, the experts at Lehigh Valley Health Network can help you devise a game plan for better health.
Need Help?
Call 888-402-LVHN (5846) Monday-Friday, 7 a.m. - 8 p.m.
Saturday-Sunday, 9 a.m. - 5 p.m.
Walk-In Care
If you have a minor illness, you can walk into an ExpressCare or schedule a video visit. For allergies, ear infections, cold and flu symptoms, rash and sprains.
Find an ExpressCARE
Schedule a video visit
Schedule Online
Book the next available "new patient" appointment with the click of a button.
How You Can Help Our Mission
This is a non-profit organization. Please consider donating to help heal, comfort and care.
Learn more »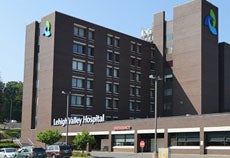 Find a Hazleton Service
Learn about LVHN services in the Greater Hazleton region by visiting LVHN.org/hazleton.