Why Choose Us for Spine Disorders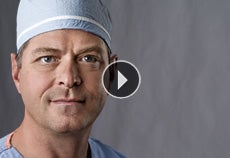 Chris Lycette, MD
, believes you do not have to live with chronic back pain. That's why this neurological surgeon with fellowship training in spine surgery coordinates a treatment strategy individualized for each patient – from pain management and physical therapy to complex spinal fusion.
The doctors, nurses and support staff at Lehigh Valley Health Network are prepared to help you understand and manage your spine disorder. You will be cared for by specialists who received their medical education at world-renowned hospitals and universities.
We provide a comprehensive approach to meeting your needs by coordinating a team that analyzes all aspects of your care. Our doctors can guide your medical treatment, offering their expert opinion on prescription medicines, both new and traditional, and how you might benefit. We also offer the latest surgical therapies to address your condition, and offer follow-up therapies to restore your ability to move through life as pain-free as possible.
We are dedicated to providing comprehensive physical and emotional care. Some of the resources we offer include: access to clinical trials, rehabilitation therapy, lifestyle modification resources, pain management, mental health services, information sessions and support groups.
Neuro-oncology program
Our collaborative and compassionate team will design the best treatment plan for your brain or spinal tumor. Each patient's diagnosis and treatment plan is reviewed by a team of medical specialists that includes physicians from neurosurgery, radiation oncology, medical oncology, neuroradiology and neuropathology. Our team is dedicated to improving both survival and quality of life for people who are diagnosed with central nervous system cancers.
Next Step
For questions about spine surgery, call
610-402-CARE
.
The Advanced Spine Center
Spine disorders are among the most common medical conditions that can have a significant impact on a person's health and quality of life. The Advanced Spine Center consists of a team of spine specialists dedicated to getting you relief from your pain and helping you resume your favorite activities. The Spine Center takes a team approach consisting of physiatry, neurosurgery, chiropractic care, physical therapy and pain management. Working together with you, our team will develop a personalized plan of care that addresses your specific goals for treatment and recovery, both nonoperative and operative, if needed.
We have a comprehensive team of experts who diagnose and treat complex spine conditions. We are at the forefront of the medical management of chronic back pain and, when necessary, the use of minimally invasive spinal surgery. We use the most advanced devices for complex spinal fusion surgery and are involved in leading-edge clinical research. Our team will ensure you have access to the latest treatments available.
Level I Trauma Center with 24-hour neurosurgery coverage
Rapid, expert care is the key to surviving a brain injury. That's why Lehigh Valley Health Network employs the kind of experienced medical staff not available at most medical centers. We are a Level I Trauma Center with 24-hour neurosurgery coverage, staffed by a team of highly specialized health care providers educated to rapidly respond to even the most severe cases of traumatic brain injury.
Neuroscience intensive care unit

In the region's only neuroscience intensive care unit (NSICU), you'll find dedicated medical professionals who have experience caring for patients with brain tumors, neurodegenerative diseases and traumatic spine injuries or spine surgery. Our team of physicians and nurses has extensive education and experience in neurology and critical care setting us apart from other hospitals. About 85 percent of NSICU nurses are certified as neuroscience registered nurses.
Neurosciences research
Neurosciences research at Lehigh Valley Health Network is dedicated to clinical research in the field of neurology with expertise in stroke, multiple sclerosis, epilepsy, Alzheimer's disease, movement disorders and neuropathic pain. Our mission is to provide our community with new knowledge and treatments, through research, in the field of neurology while maintaining standards of quality and efficiency.
Neuropathology
Lehigh Valley Health Network is home to northeastern Pennsylvania's only neuropathologist. He is an expert in identifying the pathology of brain tumors and neurological nerve disorders. Through his evaluation and consultation with the neurosurgical team, physicians determine the right course of treatment for you or your loved one.