New Infusion Treatment Available for Relapsing-Remitting MS
Dmitry Khaitov, MD
Neurology
Watch a video to learn more about him.
Gary Clauser, MD
Neurology
Neurologists at Lehigh Valley Health Network (LVHN) now are treating multiple sclerosis (MS) patients who have experienced inadequate responses to two or more MS therapies with the drug Lemtrada (alemtuzumab). The MS Center of the Lehigh Valley at LVPG Neurology participated in clinical trials of Lemtrada, which has been shown to reduce relapse rates and slow worsening of disability.1
A new approach
"Lemtrada adds another level of aggressiveness in treating MS in situations where other treatments have failed," says LVHN neurologist and MS Center co-director Gary Clauser, MD.
Although Lemtrada offers a new MS treatment option, its risks may include autoimmune conditions, infusion reactions and a slightly higher risk for cancer.2 Lemtrada's restricted distribution program, known as the Risk Evaluation and Mitigation Strategy, is required by the Food and Drug Administration (FDA). Certified facilities such as LVHN's must provide patient education along with equipment and personnel to manage infusion reactions and long-term patient monitoring.
FDA approved late in 2014 for use in patients with relapsing-remitting MS, Lemtrada is a CD52-directed cytolytic antibody originally used to treat leukemia. Intravenous infusions of Lemtrada are administered for five consecutive days and then again for three consecutive days one year later. The MS Center was the only site in the region and greater Delaware that participated in clinical trials of the drug over a 13-year period. Eight patients were treated with Lemtrada at the MS Center during phase 2 and phase 3 trials comparing alemtuzumab to interferon beta-1a (Rebif).
Certified center for care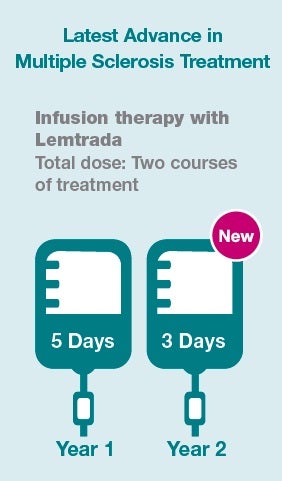 While the MS Center anticipates that less than 5 percent of MS patients will qualify to receive Lemtrada, early diagnosis and management of MS is crucial to limit the disease's impact. "MS is very different from patient to patient," says LVHN neurologist Dmitry Khaitov, MD. "The specialists and subspecialists here are focused on using the advances that are being made in MS research and practice to help patients lead full lives."
LVHN is the only organization in the region designated as a Center for Comprehensive MS Care by the National Multiple Sclerosis Society. This is a certification achieved by meeting specific treatment requirements. Physicians and nurse practitioners at the center, which treats more than 1,800 MS patients annually, have received advanced education in caring for MS patients.
The MS Center also includes an on-site neuropsychologist, certified registered nurse practitioner and clinical counselor for mental health needs; social services support; and physical therapists.
To refer a patient to neurology, call 610-402-CARE.
1. "Alemtuzumab for patients with relapsing multiple sclerosis after disease-modifying therapy: A randomised controlled phase 3 trial." A.J. Coles et al. Lancet. 2012; 380(9856): 1829-39.
2. "Lemtrada." https://www.lemtrada.com.
Spring 2015