Transcatheter Aortic Valve Replacement (TAVR)
Next Step
For questions about TAVR, call
888-402-LVHN
.
During transcatheter aortic valve replacement (TAVR), an aortic valve is replaced using a catheter, like those used to put a stent in a clogged blood vessel. The procedure does not require that the patient's chest be opened. It is done for patients who have a diseased aortic valve (aortic stenosis) and can't have traditional "open-heart" surgery.
The valve is inserted into a patient through a tiny incision in the groin or chest by our team of expert cardiologists and heart surgeons. They work together in a facility called a hybrid operating room (OR), which contains the equipment found in both a traditional OR and cardiac catheterization lab.
Lehigh Valley Health Network is one of the first hospitals in the nation chosen to use the new valve used in this procedure, the SAPIEN aortic valve, according to its manufacturer, Edward Lifesciences.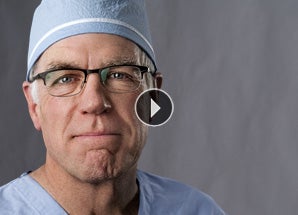 J. Patrick Kleaveland, MD
, leads our interventional cardiology program, which is in the top 11 percent of hospitals in the nation doing the highest volume of interventional procedures. This innovative program offers the most advanced therapies and procedures to treat everything from heart attacks to complex coronary blockages.
Raymond Singer, MD
, is the only cardiothoracic surgeon in Pennsylvania to achieve better than expected outcomes in heart valve surgery. He describes why the best outcomes are achieved by access to a heart surgeon and team with years of experience and high volume.
Patient stories
Read inspiring stories about our patients and find out why they're glad they chose Lehigh Valley Health Network.