Facial Esthetics and Skin Care
We are passionate about helping you look and feel your best. Through a combination of science and artistry, our licensed medical esthetician, physician assistants and plastic surgeons offer a wide variety of services to help you achieve a healthy and youthful appearance through skin care treatments, injectables, fillers and a regimen of high quality and effective skin care products.
Conditions we treat:
Next Step
For questions about facial esthetics and skin care, call
888-402-LVHN
.
Fine lines and wrinkles, sun damage
Coarse wrinkles, crow's feet
Stretch marks
Rosacea and facial redness
Pigmentation problems (melasma, sun spots, brown spots)
Scar reduction
Acne and acne scarring
Excessive pore size and poor skin tone
Sagging skin (face, neck, abdomen, arms)
Facial Esthetics
Injectables and dermal fillers
Though we try to lose weight everywhere else, losing weight and volume in the face can be aging. Soft tissue fillers offer a way to counter that loss of volume by elevating deep wrinkles, filling in hollow cheeks and improving fine lines by plumping the dimpled area. Your provider will select the filler that will best address your areas of concern. Soft tissue fillers can provide immediate results lasting six months or longer.
Belotero Balance®
This is a prescription injection approved to temporarily smooth out and fill in moderate-to-severe nasolabial folds (the fold or wrinkles that go from the side of the nose to the corner of the mouth.).
Botox®
A lifetime of facial expressions can leave their mark: crow's feet, forehead lines, eyebrow furrows. You can target wrinkles with the most popular nonsurgical cosmetic procedure, Botox® injection. Botox® safely weakens specific facial muscles, with results lasting approximately six months or longer. Your physician will evaluate and discuss which specific injections will provide the greatest benefit. Botox® is done in the comfort of our office, with visible results within a week.
Juvederm® XC
This is an injectable gel that temporarily adds volume to the skin where moderate-to-severe facial wrinkles and folds occur, especially around the nose and mouth.
Juvederm Voluma ® XC
This injectable gel is for deep injection in the cheek area to correct age-related volume loss in adults who are 21 years of age and older.
Skin Care
Skincare and Rejuvenation: What to Expect During a Facial featuring LVHN Medical Esthetician, Emily Doster
While you may have no control over the traits you've inherited, when it comes to your skin, how well you care for your skin, can make a difference in how you look and feel. Our licensed medical esthetician provides treatments that deliver visible results. All of our services are performed after an analysis of your skin and discussion of your individual goals and concerns. In many cases, your skin care consultation fee can be applied to your first skin care service. (This does not include injectables or fillers.)
Chemical exfoliation
Chemical exfoliation, also known as chemical peels, are skin-resurfacing treatments. Chemical peels are used to treat wrinkles, skin discoloration, acne and scars on the face and body, including the sensitive eye and lip area. The procedure involves a chemical solution that is applied to the skin. The solution causes a layer of skin to separate and peel off over the course of a day up to two weeks, depending on the type and strength of the peel. The new regenerated skin underneath is usually smoother, less wrinkled and more even in color than the old skin.
Chemical peels can be done at different depths depending on the results you desire. We recommend a pre-peel consultation to discuss your goals and pricing.
Facials
Our facials are custom non-peeling treatments that include skin care analysis, cleansing, exfoliation, steam and removal of superficial blemishes.
Makeup lesson
Our esthetician has training, experience and expertise in the most popular makeup application techniques. She can show you how to apply your makeup using natural minerals to even out your skin and enhance your natural beauty. Whether you are seeking a new look for everyday, seeking techniques to cover skin conditions or scars or you're heading out for a special occasion, we can help you choose the appropriate colors, products and tools for applying your makeup so you can look your best.
Microdermabrasion
If your skin looks uneven or has a blotchy appearance, consider microdermabrasion. This procedure treats a range of common skin concerns including sun damage, acne, scarring and stretch marks, and the overall impact of aging and hormonal changes. Microdermabrasion uses a diamond-tip applicator to gently remove dead skin. A series of three to four treatments is generally recommended.
Skin care analysis
At this appointment, you will meet with an esthetician who will analyze your skin and discuss any skin conditions or concerns you may have. We will address and discuss your treatment and product needs, as well as create a customized plan specifically for you.
Tri-level exfoliation
Our tri-level exfoliation is an advanced skin care treatment developed for maximum result. This gentle treatment combines dermaplaning, microdermabrasion and a chemical peel all in the same appointment. You may experience mild skin flaking following the procedure.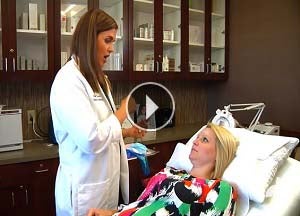 Learn more about Rejuvapen™ from LVHN Medical Esthetician, Emily Doster.
This procedure can be performed on the face, neck, tummy and used as a treatment to improve the appearance of scars. Microneedling is a minimally invasive skin-rejuvenation procedure that uses microneedles to create controlled wounds in the skin to stimulate the production of new collagen and elastin proteins making the skin firmer, fuller and more elastic. A topical anesthetic is applied prior to the procedure to minimize any possible discomfort. Microneedling is beneficial for skin that may not be suitable for peeling or laser resurfacing, such as the area around the eyes, mouth, hands and chest.
Waxing
Brow
Lip
Chin
Bikini
Brazilian
Semi-permanent makeup
Light or sparse brows and eyelashes can be brought to life with gentle vegetable-based dye specifically formulated for the sensitive eye area. Our licensed medical esthetician can perfectly match your natural coloring to enhance your brows and lashes. Frequency: safely performed every two to four weeks.
Permanent makeup
Add the look of fullness and definition to your face without time-consuming make-up application. Unlike semi-permanent makeup, permanent makeup embeds pigment beneath the skin, similar to a tattoo.
Please contact us to discuss your individual concerns and pricing.
Makeup
Our licensed medical esthetician is a professionally trained makeup artist who can expertly apply makeup for any occasion. We also offer lessons to help you achieve your desired look at home.
Pricing
Skin Care Consultation
Facials
Deep Cleansing facial $100
Anti-aging facial $125
Brightening facial $125 For hyperpigmentation
Acne facial $125
Microdermabrasion
Dermaplaning
30 minutes $ 75
60 minutes $150
Chemical Exfoliation $150+
A pre-peel consultation is recommended to
determine optimal goals and optimal treatment.
Consultation fees can be applied to services
Tri-level exfoliation $250

Microneedling
Rejuvepen™
Face $300
Neck $350
Tummy $450
Waxing and tinting
Brow $20
Lip $10
Chin $15
Bikini $35+
Brazilian $70
Semi-permanent makeup
Brow $15
Lash $25
Brow and lash $35
Makeup
Makeup application $65+
Airbrush makeup $125
Makeup
Makeup lesson 60 minutes $65
Makeup consultation 60 minutes $55
Injectables and fillers
Botox $13.00 per unit
Belatero $500.00
Juvederm $600.00
Juvederm Ultra XC $600.00
Voluma $1,000.00


LVHN employees receive a 20% discount on any of the services listed above.