Jerry Lindner's Remarkable Recovery: Return From a Traumatic Skiing Accident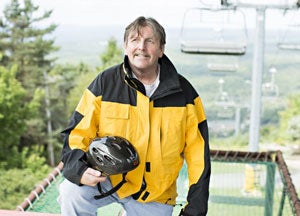 The conditions were fast at Camelback Mountain Resort the morning of March 10. On his 61st birthday, ranger Jerry Lindner of Clifton Township (Lackawanna County) was focused as he patrolled the black diamond slope, skiing from one side to the other to look for skiers who may have left the trail.
As Lindner dug his skis into the icy snow to turn, his feet slid out from under him. He spun, fell onto his back and began sliding headfirst down a steep, wooded embankment. He tried to grab anything to stop his momentum but was traveling too fast. About 50 feet into the slide, the top of his head slammed into a tree. He was wearing a helmet. "I felt a sizzling hot sensation travel from my neck to my toes," Lindner says.
The only body parts Lindner could move below his neck were his fingers, which fortunately landed atop his two-way radio. He squeezed the button and requested help from ski patrol.
At that point, teams of health care professionals across eastern Pennsylvania sprang into action. The events that followed show how a coordinated trauma system, comprising skilled emergency responders and trauma experts, saves lives.
11:32 a.m. Ski patrollers and rangers find Lindner. He can't move and is having trouble breathing. They radio the base and request a Lehigh Valley Health Network (LVHN)–MedEvac helicopter to transport Lindner to LVHN's Level I (highest level) Trauma Center. They stabilize Lindner's body in a toboggan. Ski patroller Lynn Leauber navigates a steep, tree-filled slope to get Lindner to the bottom, where an ambulance waits to take him to the helicopter landing zone.
11:43 a.m. Central Pocono Ambulance paramedics Margo Warner and Chris Schierloh examine Lindner. When Warner pinches his calf, there is no response. While they are preparing Lindner for the flight, he stops breathing and goes into cardiac arrest. The paralysis is affecting his diaphragm and ability to breathe. Without panic, the team starts chest compressions. Lindner comes back. "It's our job to get a patient from point A to B, where his ultimate caregivers await," Warner says. "During that time, we're the eyes and ears of the doctors and nurses. We gather all the information and share it so they can provide the best care."
Jayme Lieberman, MD
Trauma surgery
Stefano Camici, MD
Neurosurgery
12:10 p.m. The LVHN–MedEvac team secures Lindner to a backboard, inserts a breathing tube and lifts off. In the helicopter, Lindner goes into cardiac arrest again. The team – which includes a paramedic and registered nurse educated in critical care – administers a sedative and uses a bag valve mask to force air into Lindner's lungs. The team radios the ER and calls a trauma alert, which mobilizes a team of trauma specialists at Lehigh Valley Hospital–Cedar Crest to prepare for Lindner's arrival. His vital signs return. "Each team in a trauma system is like a link in a chain," says Barry Mitchneck, RN, Lindner's flight nurse. "When each link is connected, the system works perfectly."
12:57 p.m. The LVHN trauma alert team takes Lindner from the helicopter. They quickly take an MRI of Lindner's neck. Trauma surgeon Jayme Lieberman, MD, and neurosurgeon Stefano Camici, MD, find two shattered vertebrae in Lindner's neck. His spinal cord is dislocated and bruised, but not severed. He needs emergency neurosurgery.
The following day the surgical team, led by Camici, uses titanium plates, rods and screws to reconstruct Lindner's neck. Following the five-hour procedure, he gains some sensation in his extremities. Only time will tell if he continues to improve.
"I was determined not to be paralyzed," says Lindner, who constantly tries to move his fingers and toes in his hospital bed. Four days after surgery, his left toe twitches. The next day, his right toe moves. The next, he lifts his leg. "I worked at it until I was exhausted," Lindner says.
Eight days later Lindner moves his limbs. Doctors give him a 90 percent chance for walking and moving normally again. He is transferred to a rehabilitation facility near his home to begin his recovery.
Less than 5 months later Lindner walks his Pocono property without assistance with his wife, Lynn, and dog Dutchess. He's working to improve his coordination and has a long way to go before he is fully recovered, but he's alive. "The helmet saved my life, and so did all the people who helped me along the way," he says.
"I'm thankful for a second chance, because I know there are new things out there for me."
-Rick Martuscelli