Safety First
Occupational Health Services help Romark Logistics Employees Stay Healthy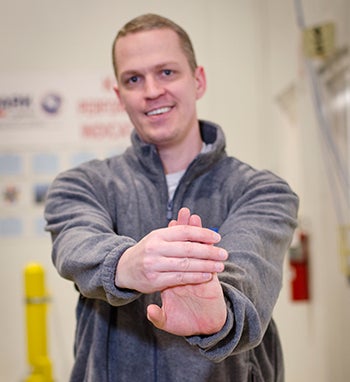 "In my department, we pick items and place them in boxes. Before a shift, after lunch and after a shift, everyone in my department stretches our hands, arms and shoulders. It helps tremendously. I never hear anyone saying they're sore, and we haven't had an injury in years." -Ryan DeHoff Co-pack manager, Romark
Romark Logistics employees work hard and smart. In 24 hours, they can handle as many as 40,000 cases plantwide in the company's Hazle Township facility, which provides distribution and logistics for food products. Employees say they're proud to work there because of Romark's commitment to their health and safety.
"We've had half-a-million hours worked with less than a 1 percent incident rate, which is much better than the industry standard," says Holly Courter, Romark's senior human resources manager. "Lehigh Valley Health Network (LVHN) contributes to that success."
Romark is one of nearly 500 companies in northeast Pennsylvania that utilizes LVHN's occupational health services, which are provided at the Health & Wellness Center at Hazleton or at the worksite.
"The more we know about a job's demands and the employee's technique and abilities, the more safely the employee can be placed at a specific job," says John Amentler, MD, occupational health services medical director. "Companies love that we can offer most of our services at the worksite," says occupational health clinic manager Laura Jones, RN.
The industrial rehabilitation department at the Health & Wellness Center works in conjunction with the occupational health clinic. "Our program is unique in that we adapt to meet each company's needs," says occupational therapist and director of rehabilitation services Catherine Gallagher.
LVHN's occupational health services include:
Support from three occupational medicine physicians who provide care for work-related injuries and illnesses, pre-employment and return-to-work exams
Drug and alcohol testing "
D.O.T. Testing (Department of Transportation) "
Wellness programs and screenings "
Travel medicine services, including immunizations "
Worksite early intervention program, which promotes safe practices to prevent injury
Creation of job descriptions that define job demands
On-the-job education to help employees perform their job more safely and efficiently
Job strain analysis that helps determine whether a job is safe or unsafe, with recommendations for improvements
Functional capacity testing to determine a job candidates abilities
Exercise programs to develop strength and endurance for job-related tasks
On-the-job rehabilitation to help employees return to full duty
The ultimate goal is to prevent an injury from happening. That's why the education employees receive is vital.
–Rick Martuscelli