Your Own 'Motion Picture': New Software Analyzes Your Motion and Improves Your Sports Performance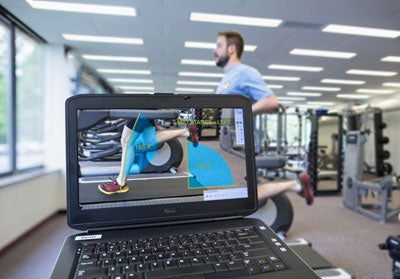 Imagine yourself running on a treadmill. . . swinging a golf club. . . or throwing a ball, all with fluid motion. Thanks to a new computer technology called Dartfish, you can learn more about your movements and reach peak performance.
Developed in Switzerland, Dartfish is a video motion analysis software used by rehabilitation, fitness and sports performance professionals at Lehigh Valley Health Network (LVHN). "Dartfish allows us to obtain exceptionally high-value motion information from video," says LVHN physical therapist Jesse Schimmer. "This information can be essential in improving your athletic performance or helping you recover from an injury."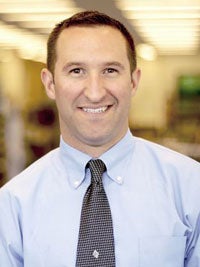 Here's how Dartfish works: An LVHN expert videotapes you in action and then dissects your movements at reduced speed, frame-by-frame and in still screen captures. Each frame can be analyzed and then enriched with graphics, text or measurement data as needed. After your initial Dartfish session, an LVHN expert will analyze the video with you, seeking the slightest deficiencies that could show, for example, why your stride is off or why you're experiencing pain.
Jesse Schimmer
Physical therapy
"In effect, we take an in-depth look at how you move," Schimmer says. "We examine movement patterns and joint angles that may not be what they should be."
You can ask an LVHN sports performance professional for a Dartfish analysis (there is a cash charge). It's also available with a referral from your doctor or physical therapist if you're recovering from an injury.
The key to Dartfish's success is its ability to pick up subtleties that the human eye may miss, and it's especially helpful for athletes who are experiencing pain while active.
"Let's say you have discomfort in your knee," Schimmer says. "The initial treatment approach may focus only on the knee joint, but the actual cause of the pain may be somewhere else entirely." Your knee, for example, could be sore because your gait has changed as compensation for muscle weakness in another part of your body. "Dartfish can help detect these motion abnormalities and defects, helping you prevent or recover from injury or improve your athletic performance," Schimmer says.
–Ted Williams