Hackerman-Patz House Photo Gallery
Whether your loved one is here in our hospital or you're receiving care yourself, our goal remains the same: to offer you comfortable accommodations and a supportive environment that allows you to focus on healing.
The front desk/lobby area is the house resource hub. Our staff members will do everything possible to make sure your stay is comfortable, safe and restful. They also can help connect you to a variety of hospital and community resources.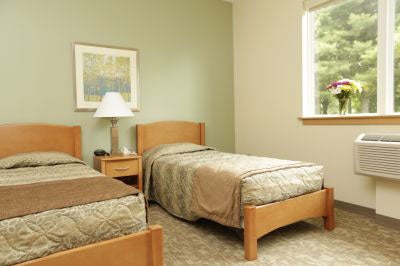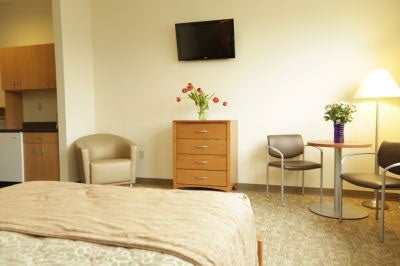 Our guest rooms are available with single or double beds. All rooms include a private bath, flat-screen TV, mini-fridge and safe. All eight first-floor guest rooms are ADA compliant.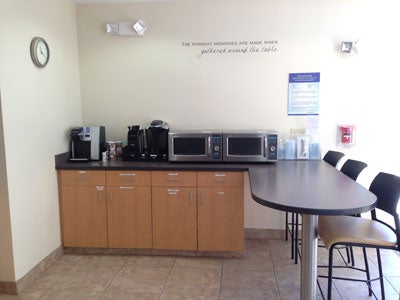 Our kitchenette is designed to store and reheat quick meals and snacks. Supplies like kitchen utensils are provided to make it simple and easy to grab a quick bite or beverage, and our vending machine includes a variety of healthy options.
Our playroom includes a play kitchen and a variety of interactive toys to spark the creativity of our youngest guests. Children are required to have adult supervision at all times, here and throughout our house.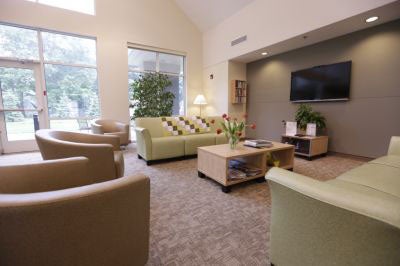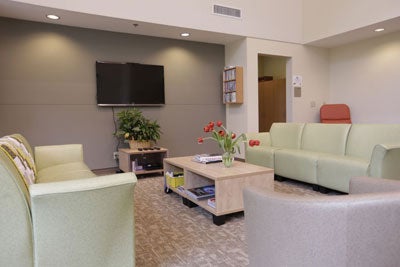 Natural light, a beautiful view and comfortable furniture make our Great Room an ideal spot for guests to relax or watch TV. Because our guests all face similar circumstances, it's also a place for sharing and supporting each other.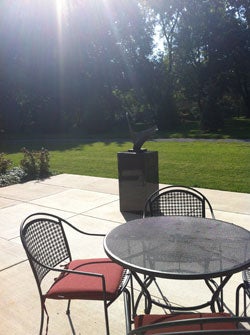 Our patio is another great place for relaxing when the weather's nice. Free Wi-Fi is available there and throughout our house, and a wooded walking path is just steps away.