Community Canvas 2018-19
For the sixth consecutive year, Community Canvas is giving young artists at area elementary schools a chance to display their passion for healthy living and their talent for art.
A partnership between Lehigh Valley Reilly Children's Hospital and Lehigh Valley Art Spark – and in conjunction with the Kellyn Foundation – Community Canvas gives students at 10 schools the opportunity to create artwork based on healthy eating habits and all-around wellness.
Upcoming Events
The Community Canvas event with Shawnee Elementary School scheduled for Feb 13th, 2019 at Easton Public Market is canceled due to inclement weather.
In Our Schools
To begin, Kellyn Foundation conducts a classroom program series in the schools. In these classroom sessions, we discuss the connection between good health and good nutrition through programs created especially for third, fourth and fifth graders. Students learn differences between fresh, healthy, whole food and drink compared to processed unhealthy products. Students also learn how to read food labels and find the amount of sugar and fat in products. In addition, students learn how to make the healthiest choices when they are out at restaurants or away from home with friends.
Following these presentations, children are asked to take home a packet of materials for their parents that explains Community Canvas. Parents also are asked for consent for their child to be considered as an artist contestant at an upcoming art event.
Once the classroom education has taken place, Lehigh Valley Art Spark conducts an assembly at the school where the students dance, play games and refresh the lessons learned. During the assembly, 10 contestants are randomly selected for their school's Community Canvas art event.
Ten Community Canvas preliminary art events will take place through April 2019, with the grand finale in May. Children of Lehigh Valley Health Network (LVHN) employees are not eligible to compete as artists.
Families and friends are encouraged to capture the excitement with photos at each Community Canvas preliminary event and to promote our local schoolchildren's talent by uploading them to social media using our official hashtag #CommunityCanvas.
Garden as a Classroom
Third and fourth grade students at several participating schools get even closer to their food by planting, growing and harvesting produce from their own school garden, creating a year-round healthy food experience.
Veggie Challenge
Third and fourth grade students are challenged to change how they feel about foods, and shown how to teach their bodies to like healthier foods. Here's another trick – it works for adults too!
Participating Schools
Allentown School District
Central Elementary
Mosser Elementary
Sheridan Elementary
Easton Area School District
Cheston Elementary
Forks Elementary
Paxinosa Elementary
Shawnee Elementary
Tracy Elementary
Whitehall-Coplay School District
Steckel Elementary
Zephyr Elementary
In Our Neighborhoods
Lehigh Valley Reilly Children's Hospital, Kellyn Foundation and Buy Fresh Buy Local are partnering with neighborhood corner stores to make it easier for families to make healthy choices by offering affordable fresh, local produce.
What happens at Community Canvas?
Preliminary events
At Community Canvas preliminary events, our artists are given a lunchbox full of art supplies and 45 minutes to create a piece of artwork based on what they've learned in the classroom and school assemblies. The artwork is then voted on by the audience to select two winners, who quality for the Grand Finale. The most important artistic talent needed is creativity and a passion for healthy living. Everyone who participates in a Community Canvas preliminary event gets a prize.
While the artists create their masterpieces, top chefs from local restaurants will be offering free and delicious healthy meal samples for everyone in attendance.
After the 10 preliminary events are completed, the work of all artists who did not advance to the Grand Finale will be entered into a Facebook poll so the public can select additional contestants to advance to the finale event.
Grand Finale
Similar to the preliminary events, each artist at our Grand Finale will receive a mystery lunchbox of art materials and have 45 minutes to create their artwork based on a healthy theme. Audience members each get one vote to select an overall winner, who earns the opportunity to be featured in local media and on the LVHN website and in publications. In addition, the winner takes home a basket filled with brand new art supplies and gift certificates. Second and third place artists will also receive prizes.
Participating chefs compete in a "cook-off" by creating healthy dishes using three ingredients supplied by the Kellyn Foundation's Eat Real Food Mobile Market. The winning chef will be voted on by the audience, including the child artists, and will be awarded the Reilly Children's Hospital's "golden spoon" trophy.
The Community Canvas program costs you nothing but your time and support for what we hope you'll find to be a tasty and inspiring experience for your entire family. Artwork from all Community Canvas events can be seen at Reilly Children's Hospital art galleries throughout LVHN facilities.
A look back at Community Canvas 2017-18
Christian Barangian, a third-grader from Tracy Elementary School in Easton, was crowned the overall champion Saturday in the fifth annual Community Canvas Grand Finale at Lehigh Valley Mall.
The 8-year-old Barangian bested 17 other third-, fourth- and fifth-grade artists to take home the top prize in the competition which gave youngsters from eight area elementary schools the chance to display their passion for healthy living and their talent for art.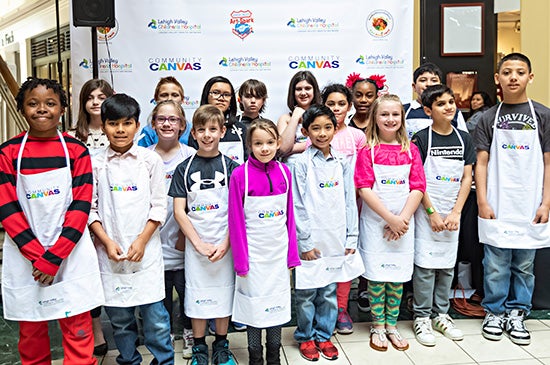 Omari Brooks, 8, a third-grader from Steckel Elementary School, was the runner up. Sadie Crume, 11, a fourth-grader from Shawnee Elementary School, placed third. Other participants in the grand finale included: Julian Nieves, 10, a fifth-grader from Cheston Elementary School; Lilly Peluszak, 9, and Justin Marquez, 8, third-graders from Steckel Elementary School; Elias Baurkot, 9, a fourth-grader, Gianna Palmeri, 10, and Kari Szczesny, 11, fifth-graders, from Forks Elementary School; Johnavone Stragratanio, 10, and Wyatt King, 9, fourth-graders from Paxinosa Elementary School; Matthew Nigro, 8, a third-grader from Shawnee Elementary School; Trent Ader, 10, a fourth-grader, and Eddy Molina, 11, a fifth-grader, from Tracy Elementary School; Kellyn Chung, 11, a fifth-grader, and Valeria Restrepo, 9, a fourth-grader, from Zephyr Elementary School; Navaeh Brown, 8, and Jainmarie Figueroa, 8, third-graders from Central Elementary School. Schools from the Allentown, Whitehall-Coplay and Easton Area school districts participated in the competition.
While the artists were hard at work creating their masterpieces in the 45 minutes allotted for the competition, local chefs competed in a "cook-off" creating healthy, tasty snacks. Sarah Hinsch from Greenmouth Juice Bar and Café in Easton and Allentown prevailed in the cooking competition. Jack Jones, farmer at Knopp Branch Farms and Tom Rutherford, culinary arts instructor at Bethlehem Area Vocational Technical School, also participated. Each chef was tasked with incorporating cauliflower, almonds and grapes into their snacks.