Trauma Care
Our Locations
The Fleming Trauma System and Mattioli Level I Trauma Center
Lehigh Valley Hospital (LVH)–Cedar Crest
1200 S. Cedar Crest Blvd.
Allentown, PA 18103
LVH–Pocono
206 East Brown Street
East Stroudsburg, PA 18301
LVH–Hazleton
700 E. Broad St.
Hazleton, PA 18201
The Fleming Trauma System and Mattioli Level I Trauma Center at Lehigh Valley Hospital (LVH)–Cedar Crest, the first trauma center in Pennsylvania and the largest in the region, provides the highest level of trauma care available for the adults and children of our community.
The Walter J. and June H. Okunski Burn Recovery Center is Pennsylvania's largest and is verified to treat adults and children. We are also home to the Lehigh Valley's only Children's ER, staffed with pediatric specialists working in a specially designed, child-friendly environment.
LVH–Pocono became an accredited Level III trauma center in 2008 and is the only Level III trauma center in the state of Pennsylvania. Our trauma team consists of six fellowship-trained trauma surgeons. We also provide critical care services. Along with general surgery, we have cardiothoracic surgeons on staff and orthopedic surgeons on call, 24 hours a day. We also have anesthesiologists in-house and available for whatever comes through the door.
LVH–Hazleton is a Pennsylvania Trauma Systems Foundation (PTSF) accredited Level IV Trauma Center. As such, LVH–Hazleton has the resources immediately available to provide optimal care and reduce the likelihood of death or disability to injured patients. In August 2016, the PTSF reaccredited LVH-Hazleton as a Level IV Trauma Center for the next three years.
Additionally, we offer a section for geriatric trauma, which was established in 2004. Our geriatricians focus on an interdisciplinary, team approach to care in correlation with fellowship-trained acute care surgeons and intensivists.
All together, these trauma services make us uniquely qualified to care for injuries to you or your loved ones – big or small. Here's an idea of how our process works:
The first few hours
If there has been a traumatic accident, a patient often is transported directly to our trauma center. There, the trauma team evaluates how serious a patient's injuries are and makes decisions about what kind of care is needed. Depending on the patient's condition, he or she may need care in the operating room or in a part of the hospital designed for trauma patients, such as the trauma-neuro intensive care unit or transitional trauma unit.
When you arrive at the hospital, a chaplain from pastoral care will meet you. He and a member of our trauma team will provide you information about your loved one until a physician is able to speak with you personally. These first hours are very important. You may be asked to share vital medical and background information to assist our trauma team in providing the best possible care. You also may choose to designate one person in your family to be the family spokesperson. We will give updated health care information to the spokesperson.
Please ask us questions. Our trauma team is here to help you and your loved one. To ensure privacy for you and your loved one, we follow a medical privacy act called HIPAA.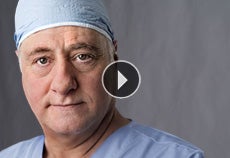 Michael Badelllino, MD
, is an experienced trauma surgeon. Before he brought his skills to the Lehigh Valley, he led an Army surgical team in war-torn Iraq. Now here at home, he leads our Level 1 Trauma Center whose every member works seamlessly together to save lives.
The road to recovery
Your loved one's road to recovery and length of time it will take are unpredictable, because each person recovers from trauma differently. The steps below show a "typical" road to recovery, but recovery times and steps may change depending on condition.
Trauma-neuro intensive care unit (TNICU)
This is where your loved one may first receive intensive care. The trauma team will monitor him at all times. You may feel overwhelmed by the amount of care, equipment and procedures your loved one will experience, but it is necessary to provide the best trauma care.
Visiting TNICU
When you arrive on the unit, you will check in with a critical care ambassador. She will provide you information to assist you during your loved one's stay. She also will check to make sure your loved one is ready to receive visitors. Because the level of TNICU care is so intensive, there are special visiting guidelines.
Scheduled family visiting hours are 11 a.m.-2 p.m., 3-6:30 p.m. and 8:30-9:30 p.m.
Talk to your care team about special visiting hours or needs, and the best way to arrange visits from children under 12 and close friends.
Do not bring food or beverages into your loved one's room.
Please do not send flowers while your loved one is in TNICU.
You may notice cameras in your loved one's hospital room. They are linked to an off-site location where we maintain an advanced intensive care unit (aICU). It is staffed by specially educated critical care physicians and nurses who provide an extra layer of care in addition to bedside care during overnight hours. Your loved one's blood pressure, heart rate and other vital signs are monitored continuously so our trauma nurses and physicians are alerted immediately of any changes in your loved one's health.
Next Step
To learn more about trauma surgery, call
888-402-LVHN
to find a surgeon.
Transitional trauma unit (TTU)
When your loved one's condition improves, he may move to this unit. The trauma team will evaluate your loved one's progress thoroughly before making this transfer. Your loved one's health condition will continue to be monitored regularly on TTU. But because the level of care is less intensive than on TNICU, you may see your nurse less often.
In certain situations, your loved one might be well enough to leave TNICU but not quite strong enough for regular TTU care. If that happens, your loved one will receive care in a 24-hour "observation room" located on TTU. On TTU, your loved one will be able to participate in his or her care as he or she begins recovering. You can help by providing encouragement. Case managers will work with you to plan the next stage of recovery.
Leaving the hospital
When your loved one no longer needs care in the hospital, the case manager and the trauma team will recommend a plan best suited for him or her. When your loved one returns home, he or she may be seen in the trauma care office for follow-up care and may be referred back to the care of his family physician.
Traumatic injuries in older adults
Whether you suffer a nasty fall or experience another type of traumatic accident, your age may impact your ability to recover. At Lehigh Valley Health Network, we have a unique geriatric trauma program that delivers leading-edge care for older adults by using a back-to-the-basics team approach.
Using the Geriatric Interdisciplinary Team Training model from the American Geriatrics Society John A. Hartford Foundation, a team of experts meets weekly to discuss each patient's care and the unique needs of geriatric patients. The team can include a physician with education in the health concerns of older people, a trauma surgeon, trauma team physician assistants, pharmacist, case manager and physical/occupational therapist. Nutrition services and pastoral care also are called in as needed. This is in addition to routine consultation with the patient's primary care physician or geriatrician.
Before a traumatic injury occurs, it's important to think about where you or your loved one want to receive care. Lehigh Valley Hospital is ranked as one of the nation's best hospitals in geriatrics.
Prevention education
We also are a community leader in injury prevention, dedicating resources to child passenger safety including car seat inspections, helmet safety, traffic safety, school-based presentations and programs, parent and professional education, and health and community fairs.