Welcome to Lehigh Valley Health Network's Transitional Year Residency Program.
Welcome Letter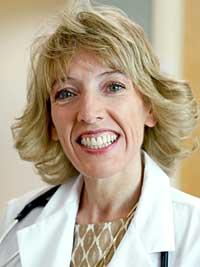 Cheryl Bloomfield, MD
Program Director, Transitional Year Residency  
Welcome to our Residency website.  My name is Cheryl Bloomfield (although I would prefer to be known as your 'Residency Mom' should you choose to share part of your professional journey with us at LVHN).
I have been blessed to be part of our Residency program for nearly 18 years.  I completed my IM Residency at the Network in 2006 and then stayed on as core faculty ever since.  In 2019 I was honored to be chosen to fill a newly created role as Program Director for our terrific Transitional Year Program.
I can honestly say, I am just as passionate about coming to work every day as I was when I first started Residency here.  My mission has been steadfast in providing our community with high quality, evidence based, cost effective, compassionate care while providing a premier medical education to all our learners. 
The professional and personal success of each one of our Residents is paramount to my goals as an educator and honestly, one of my most meaningful life's purpose.
I have no doubt should you decide to do your IM or TY Residency at our incredible Network, you will be met with a culture of excellence, supported and embraced into our family throughout your training and beyond.
Thank you for your interest in our program and hope to meet you soon.
About our program
One of the largest health systems in Pennsylvania, LVHN meets the medical needs of the population of the Lehigh Valley, eastern Pennsylvania and western New Jersey. Our physicians and health care professionals treat patients whose illnesses range from the simple to the most complex. This patient mix provides an ideal clinical environment for your education.
Unlike a university hospital that emphasizes few medical subspecialties in favor of broad clinical education experience, LVHN's diverse patient population offers a variety of primary, secondary and tertiary care learning opportunities. In many ways, our health network merges the resources and benefits of both community hospitals and large academic medical centers.
We're committed to providing our residents with the teaching, training, mentoring and experience needed for a successful career in internal medicine. Located in Allentown, Pa., our program offers comprehensive and progressive training, so you can develop the knowledge, attitude and skills you need to achieve excellence.
Our Transitional Year Residency program meets the educational needs of medical school graduates who have chosen a specialty that requires one year of general clinical education. This transitional year also is an option for students who are either undecided about their final career choice or who require one year of training prior to fulfilling military or public health obligations. 
The Transitional Year Residency prepares you for career success by providing a well-balanced educational program and a solid foundation in clinical medicine. The one-year curriculum balances formal and informal education with outpatient and inpatient clinical rotations. You'll be exposed to a variety of experiences in internal medicine, emergency medicine and other medical fields.
The transitional program is accredited by the Accreditation Council for Graduate Medical Education (ACGME) and is administered by the Department of Medicine.
Program Staff and Contacts
Program Manager
Shelly Ketchens
Shelly.Ketchens@lvhn.org 
Program Coordinator
Kristen Larimer, B.A.
Kristen_L.Larimer@lvhn.org 
Program Coordinator
Melitza Velez
Melitza.Velez@lvhn.org