Cancer Research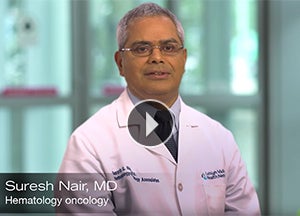 Suresh Nair, MD discusses cancer research trials at LVHN.
One major research initiative at Lehigh Valley Health Network (LVHN) is within adult and pediatric cancer care. Our John and Dorothy Morgan Cancer Center offers a level of care you won't find anywhere else in the region. As a member of the Memorial Sloan Kettering (MSK) Cancer Alliance, we provide patients with greater access to the newest and most effective standards of cancer care. Here is what our membership in the MSK Cancer Alliance means to you:
Patients benefit from expanded access to MSK clinical trials, as well as the latest discoveries in cancer research.
Although LVHN already offers the most clinical trials in the region, as a member of the MSK Cancer Alliance we are able to take local cancer research to the next level and offer even more treatment options.
LVHN physicians are able to discuss their more complex cancer cases with MSK physicians who have experience in treating rare forms of cancers as well as related blood disorders.
LVHN and MSK share educational resources by collecting and tracking data on quality of care, outcomes and patient satisfaction.
LVHN also is a member of the Michigan Cancer Research Consortium NCORP (National Cancer Institute Community Oncology Research Program). As part of the NCORP network, LVHN has placed patients with leading-edge NCORP clinical trials as well as the American Society of Clinical Oncology® (ASCO®) Targeted Agent and Profiling Utilization Registry™ (TAPUR™) registry study.
Overall, LVHN's industry and institutional affiliations offered patients access to about 180 trials, including MSK studies, pharmaceutical corporation research and National Cancer Institute trials.
Clinical Research Trials
For questions about clinical research trials at LVHN, contact the Network Office of Research and Innovation at 610-402-9543 or click the button below to view current clinical trials.