LVPG Orthopedics and Sports Medicine
At LVPG Orthopedics and Sports Medicine our philosophy is simple: take the time to treat each person with care and understanding. We'll help you learn about treatment options that can help eliminate pain, getting you back to living life to the fullest. We have practice locations in Allentown and Bethlehem (follow each link for a detailed description of physicians and services at each location) as well as satellite offices in Moselem Springs and Hamburg. LVPG Orthopedics is proud to be a part of Lehigh Valley Hospital.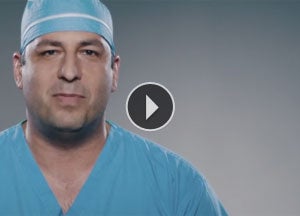 Prodromos Ververeli, MD
, is one of the leading orthopedic surgeons in the region, performing more than 600
joint replacements
a year. He speaks to how gratifying it is to see patients who were in wheelchairs before surgery, able to walk unaided after knee or hip replacement.
Our physicians and advanced practice clinicians have orthopedic sub-specialties in:
Orthopedic trauma
Hand and wrist
Chiropractic
Learn more
Patient stories